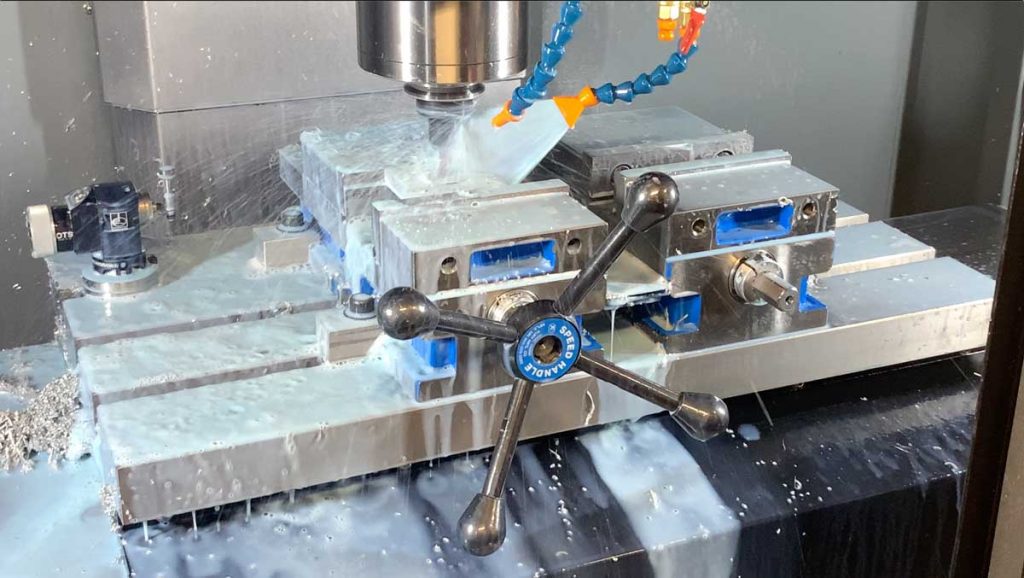 CNC Milling Services by Day Tool
Our shop is equipped with cutting edge CNC milling machines that can perform a number of processes including precision milling, drilling, and boring. These 3-axis, 4-axis and 5-axis machining systems are designed to work with steel, rubber, and plastics, as well as commercially available and exotic metals and alloys.
Our advanced CNC milling can produce parts up to 65" in length, 30" in width, and 20" in height, making our services ideal for applications in the aerospace, biotech, medical, pharmaceutical, packaging, and electronic industries. With a state of the art facility, we can also offer a number of advanced capabilities including CNC vertical machining centers, and a spindle speed up to 12,000 RPM.
Quality is ensured with the aid of a coordinate measuring machines (CMM) and optical comparator, and our shop can produce quantities from 1 to 1,000 pieces.
At Day Tool & Mfg., we take customer service seriously and invite visitors to tour our modern, 24,000 square foot, climate controlled shop in Central New Jersey. We perform work of the highest quality; we are AS 9100, Rev D. and ISO 9001:2015 certified.
CNC Milling Equipment & Capabilities
Processes
Milling
Drilling
Boring
Machinery Axis
3
4
5
Equipment Capabilities
CNC Control Capabilities
Vertical Machining Centers
12,000 RPM Spindle Speed
Materials
Steel
Stainless
Aluminum
Brass
Copper
Titanium
Inconel
Hastelloy
Precious Metals
Plastics
Rubber
Milling Length
Up to 65 in
Milling Width
Up to 30 in
Milling Height
Up to 20 in
Inspection
Coordinate Measuring Machine (CMM)
Optical Comparator
Additional Capabilities
Rapid Prototype
Sawing
Welding
Class 10,000 Clean Room
Production
Assembly
Packaging
Production Volume
1 to 1,000 pieces
Typical Lead Time
4 to 5 weeks
Additional Information
Industry Focus
Aerospace
Biotech
Medical
Pharmaceutical
Packaging
Electronic
Semiconductor
Intended Application
Precision Tooling
Stamping Dies
Special Machines
Machined Parts
Industry Standards
AS 9100, Rev. D Certified (Aerospace Industry Standard)
ISO 9001:2015 Certified (International Standards Organization)
File Formats
Autodesk AutoCAD
DP Technology Esprit
GibbsCam
PC-DMIS CAD
SolidWorks