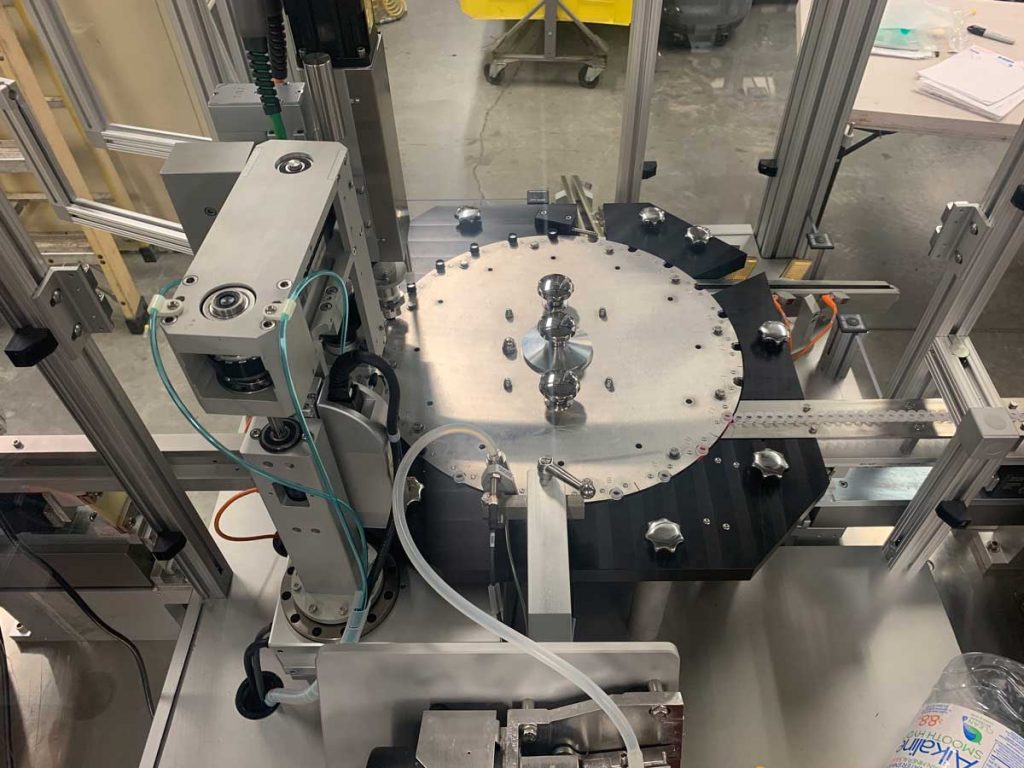 Process Automation: Machines for Every Purpose
It starts with a need or an idea: "We need a machine that …"
Day Tool & Mfg. has designed, developed and delivered scores of unique, custom-crafted machines and equipment for a multitude of manufacturing challenges. We welcome the opportunity to work with companies to automate and streamline their processes.
Our process:
First, we meet our customer to have a detailed discussion of their need. Ideally, a Statement of Requirements (SOR) will be presented, establishing the parameters of the project. Some of the questions we'll address are:
Overview of the challenge: what is the ultimate goal?
Speed: how many parts need to be processed, in what period of time?
Materials: what is the composition or nature of the product to be handled? How durable or fragile is it?
Controls:

what types of PLCs (programmable logic controllers) are needed?
what safety requirements must be considered?
what power and pneumatic requirements are needed?

Operator interactions: how much machine operator involvement will needed, how often, and with what tasks?
Next, we develop a rough design for the machine that will address your need. This design will show the size of the machine, the location of components within the machine, the safety and inspection features to be incorporated. Often, at this time an additional meeting is called to address specific features and details of the machine. In some cases, we will build a proof of principle prototype that can demonstrate that practical obstacles and opportunities to be addressed when advancing the project to production.
Finally, we set about building the full-scale machine, and run it through extensive testing and fine-tuning, in order to ultimately match the SOR and agreed-upon details of the machine. A Factory Acceptance Test is scheduled, where your engineers, designers and machine operators are invited to review, operate and ultimately approve the machine as built. Upon approval, the machine is shipped and installed at your facility.
Rough design showing size, location of assembly components withing machine, safety, inspection cameras, then detail work and possible 3rd meeting for specific features of machine. Then build, test, match to reqruiements, then FAT Factory Acceptance Test, then ship, install.
Some customized machines we have built:
Filling and capping of vials
Foil sealing,
foil forming,
breast implant inspection machines,
collagen grinding machines cutters,
Winding of sutures.
EVERYTHING BELOW HERE WILL BE DELETED, UNLESS THERE ARE ELEMENTS THAT SHOULD INCLUDED OR ADAPTED, PERHAPS IN THE BOTTOM TABLE OF ADDITIONAL INFORMATION.

Process Automation Equipment & Capabilities
Processes
Milling
Drilling
Boring
Machinery Axis
3
4
5
Equipment Capabilities
CNC Control Capabilities
Vertical Machining Centers
12,000 RPM Spindle Speed
Materials
Steel
Stainless
Aluminum
Brass
Copper
Titanium
Inconel
Hastelloy
Precious Metals
Plastics
Rubber
Milling Length
Up to 65 in
Milling Width
Up to 30 in
Milling Height
Up to 20 in
Inspection
Coordinate Measuring Machine (CMM)
Optical Comparator
Additional Capabilities
Rapid Prototype
Sawing
Welding
Class 10,000 Clean Room
Production
Assembly
Packaging
Production Volume
1 to 1,000 pieces
Typical Lead Time
4 to 5 weeks
Additional Information
Industry Focus
Aerospace
Biotech
Medical
Pharmaceutical
Packaging
Electronic
Semiconductor
Intended Application
Precision Tooling
Stamping Dies
Special Machines
Machined Parts
Industry Standards
AS 9100, Rev. D Certified (Aerospace Industry Standard)
ISO 9001:2015 Certified (International Standards Organization)
File Formats
Autodesk AutoCAD
DP Technology Esprit
GibbsCam
PC-DMIS CAD
SolidWorks