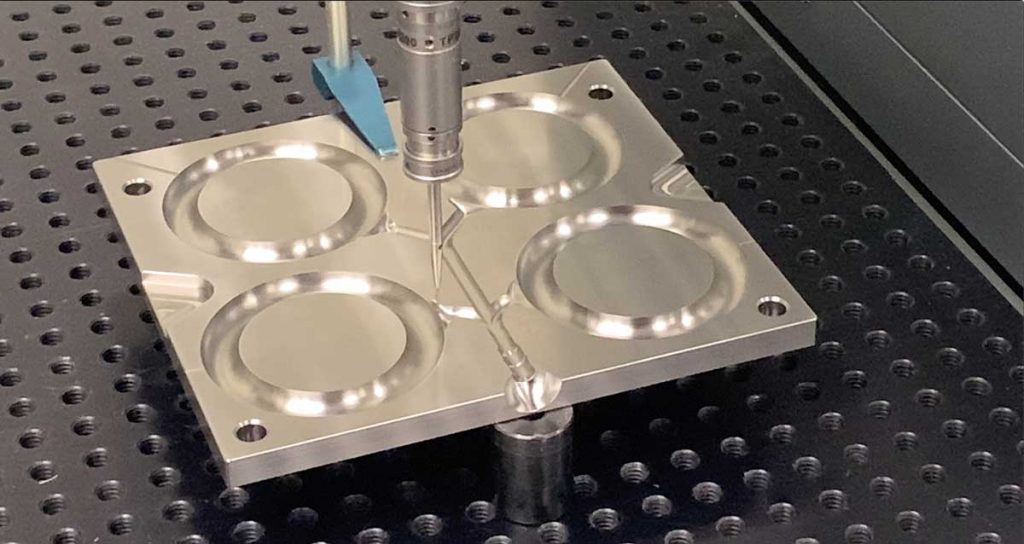 Inspection and Quality Control Services
At Day Tool & Mfg, our inspection services are a natural extension of our dedication to providing the highest quality precision tooling and dies to customers in advanced manufacturing industries. A part will never be more accurate than the tooling on which it is produced, making the accuracy of dies and fixture critical to producing consistent parts that meet all dimensional tolerances.
Inspection services include the measurement and evaluation of all dimensional characteristics and their corresponding geometrical tolerancing critical to the performance of the tooling or a component. A manual and CNC equipped CMM on our shop floor are used to verify these dimensions to precision tolerances. Inspections may be performed as part of a first article inspection in accordance with SAE AS9102 procedures, or as otherwise designated by customer specifications.
Additional available services include comprehensive product development and CAD design programs as well as complete fabrication, machining, assembly, and testing of dies, fixtures, and other tooling. Our quality management system has continuously been AS9100, Rev D and ISO 9001:2015 certified, documenting our commitment to providing premium quality service to the aerospace, automotive, biotechnology, and medical industries.
Turnaround times are evaluated on a job-by-job basis, but average approximately two weeks. For additional information about all of our inspection capabilities, see the table below, or contact us directly.
Inspection and Quality Control Equipment & Capabilities
General Capabilities
Consulting
Engineering
Inspection Characteristics & Properties
Dimensional
Concentricity
Contour
Roundness
Straightness
Inspection Methods
Coordinate Measuring Machines (CMM)
CMMs are a mechanical system designed to move a measuring probe to determine coordinates of points on the surface of a work piece.

First Article Inspection (FAI)
Defines the activities for first article inspection that is compliant with SAE AS9102A. Prime contractor requirements of the AS9102 FAI procedure to Suppliers that have design authority
Equipment
CNC Coordinate Measurement Machine
Shop Floor Manual CMM
Visual Comparator
Value Added Services
Assembly
CAD
CAM
Fabrication
Machining
Product Design Assistance
Product Development
Testing
Typical Lead Time
2 weeks; quoted on a job-by-job basis
Additional Information
Industry Focus
Aerospace
Appliance
Automotive
Biotech
Electronics
Machining
Medical
Military
Packaging
Petrochemical
Pharmaceutical
Semiconductor
Intended Application
Precision Tooling
Stamping Dies
Special Machines
Machined Parts
Industry Standards
AS 9100, Rev. D Certified (Aerospace Industry Standard)
ISO 9001:2015 Certified (International Organication for Standardization)
File Formats
AutoCAD
DXF
DP Technology Esprit
GibbsCam
GIF
IGES
JPG/JPEG
PC-DMIS CAD
PDF
SolidWorks
STEP